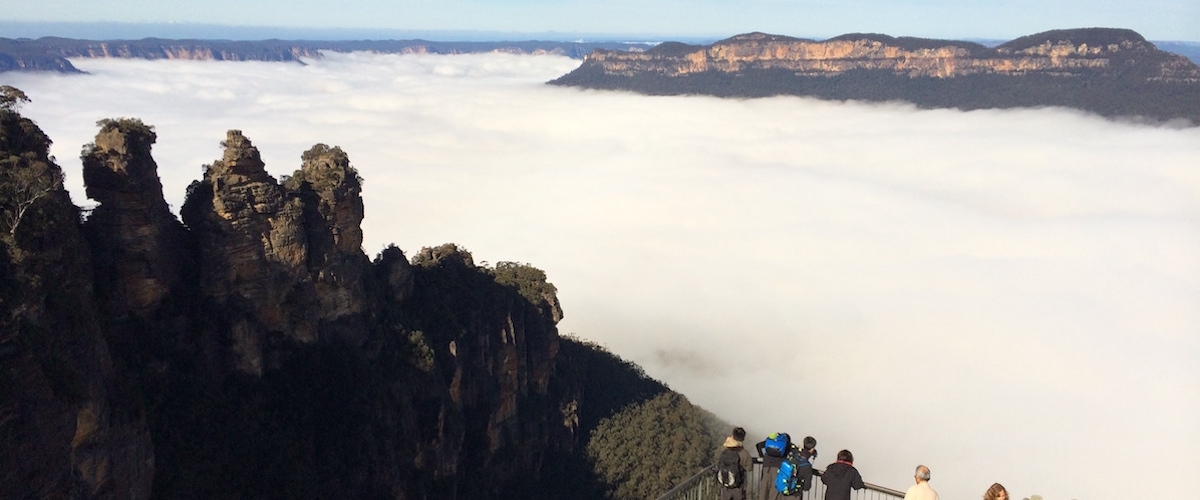 1. Departing from Sydney
A complimentary hotel pick-up will be provided from various locations.
Please come to the pick-up location 5 minutes earlier.
2. Featherdale Sydney Wildlife Park

Explore the unique animals of Australia and their habitats at Featherdale Wildlife Park.
3. Photos with Kangaroos

Take photos with fluffy koalas and play with curious wallabies strolling around the park.
4. Echo Point

Go to the Echo point lookout and be amazed by the beautiful rock formation of the Three Sisters.
5. Three Sisters

Discover the Aboriginal dream-time stories of the Three Sisters.
6. Cliff View Lookout

The lookout walk is around ten minutes return and explores the soaring cliffs with the dense vegetation in the area. Jamison Valley, Orphan Rock, Narrow Neck and Mount Solitary can be seen from the Lookout.
7. Katoomba Cascade

Katoomba Cascades makes a scenic destination to a great short walk that also takes in one of the best views in the Blue Mountains.

8. Enjoy a rainforest bushwalk

An excellent new boardwalk through hanging swamp to reach Scenic World & From here you get a fantastic view over the Jamison Valley and Mount Solitary, with the Scenic Skyway's yellow cable car floating high above.

9. Scenic World

Scenic World has indoor and limited outdoor seating. This relaxed eatery offers casual lunch options including delicious burgers, fresh wraps and seasonal specials. Kids meals are available along with halal, vegan and vegetarian options. Perched on the edge of the escarpment, EATS is located 270 metres above the valley floor with views to the Three Sisters.
10. Megalong Valley

The Megalong Valley is part of the Blue Mountains of New South Wales with a stunning view.

11. Leura

Discover Leura Village, a delightful blend of groomed gardens and quaint shops. Enjoy free time around the streets of Leura village.
12. Return to Sydney

Finish Town Hall GRACE HOTEL 5:00pm
*If you need a private drop off to choose option : SYDNEY CBD HOTEL ONLY.
6:55-7:30am Hotel pick up
8:15am Featherdale Sydney Early access
9:30am To Echo Point
10:50am Echo Point & Three Sisters 50min
12:00am Cliff View Lookout
12:15am Katoomba Cascade
12:30pm Enjoy a rainforest bushwalk
13:00pm Scenic World
13:50pm To Megalong Valley (Sound of Silence)
14:30pm Leura
15:15pm To Sydney
17:00pm Town Hall Grace Hotel

Inclusions:

* Admission & Featherdale Wildlife Park
* Sydney Pickup
* Friendly Expert Guides
* Air-Conditioned Modern Buses
* 3HOURS SELF TRAILS
* Scenic World(OWN COST)
**Terms & Conditions:** We will share your trip photo with I Love Blue Mountains & PJ Tours.